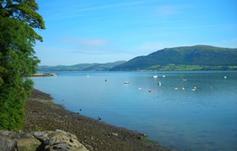 Medieval Carlingford which is on the Cooley Peninsula, Co. Louth, Ireland is located just over an hour's drive from Ireland's two major cities of Dublin and Belfast.
In 2008 Carlingford & The Cooley Peninsula were honoured with the award of Ireland's European Destination of Excellence.
Carlingford is a magical village, full of character and is one of the best preserved medieval villages in Ireland. Raided by the Vikings in the 8th & 9th Centuries, historical records show that the Vikings occupied Carlingford Lough.  They may have used the sheltered harbour as a temporary base, though, this is unclear as no factual evidence, apart from the name Carlingford has been recorded.
With its history and narrow Medieval streets, lanes that lead to the harbour, majestic Slieve Foye mountain and the famous mountains of Mourne across the lough all combine to make Carlingford unique in Ireland.  Today the inherent natural beauty can equally be appreciated on land or sea. Guided walking tours, horse trekking through the mountains – sailing – yacht charter – windsurfing – canoeing – water skiing can all be enjoyed here in Carlingford. Carlingford has 14 reputable restaurants – cosy pubs – great accommodation
Enjoy the spectacular panoramic views and listen to the wealth of myths and legends which makes Carlingford a unique holiday experience! Carlingford is at the centre of much more too, within an hour's drive – Newgrange -famous 3000BC prehistoric burial chamber. Proleek Dolmen – Portal tomb. Visit Giant's Causeway – world heritage site,  within two hour's drive.
Check out a full list of attractions and activities on the Louth Land of Legends Website.